|cbase| is a comprehensive Database+Web Solution
designed just for presbyteries.
It transforms and modernizes how
the presbytery "sees" its most valuable resource
– its people and the many ways they serve over time.
|cbase| puts this information one click away
for everyone in your office,
and for everyone in your presbytery.
On a secure, passphrase protected website just for your presbytery.
No one needs special technical skills or special software.
When you change a phone number in one place it changes everywhere, automatically.
|cbase|
arranges the
people
in your presbytery in
logical and useful
groupings based on their
multiple
(and unlimited) concurrent
past
, present, and future
roles
and attributes
What use is a list of names not grouped by the relevant context of how they serve?
Shouldn't the software form these groups flexibly and dynamically for you?
|cbase| responds intelligently to the many ways people serve over time.
The other solutions track a present-day snapshot but only
|cbase| captures and develops a contextual history over time.
This puts essential, useable, and reliable information
– in logical and meaningful arrangements based on peoples' roles and attributes –
one-click away for everyone in your office

Instead of just for the one techy 'database person'.
On the Web = Easy for everyone, from anywhere, anytime.
No technical skill needed.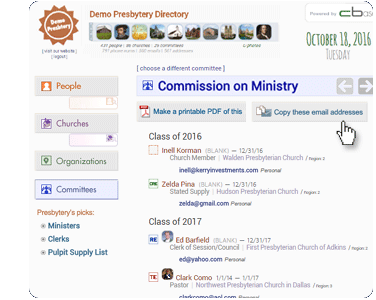 Then
automatically
,
valuable shared information is
also
presented
on your own
Presbytery Directory website
–
for the 24/7 benefit of
everyone in your entire presbytery
|cbase| handles your essential, everyday tasks automatically.

– No one ever has to manually update directory information for the website again.
– No one ever has to manually update a committee roster
or build the PDF directories by hand again.

Manage your information once from any web browser using |cbase|,
and your website directory, committee rosters, and PDFs all stay updated
and published, automatically, everyday.

|cbase| removes your tech and publishing hurdles
so everyday tasks are easy/eliminated
and you're able to focus on your real priorities.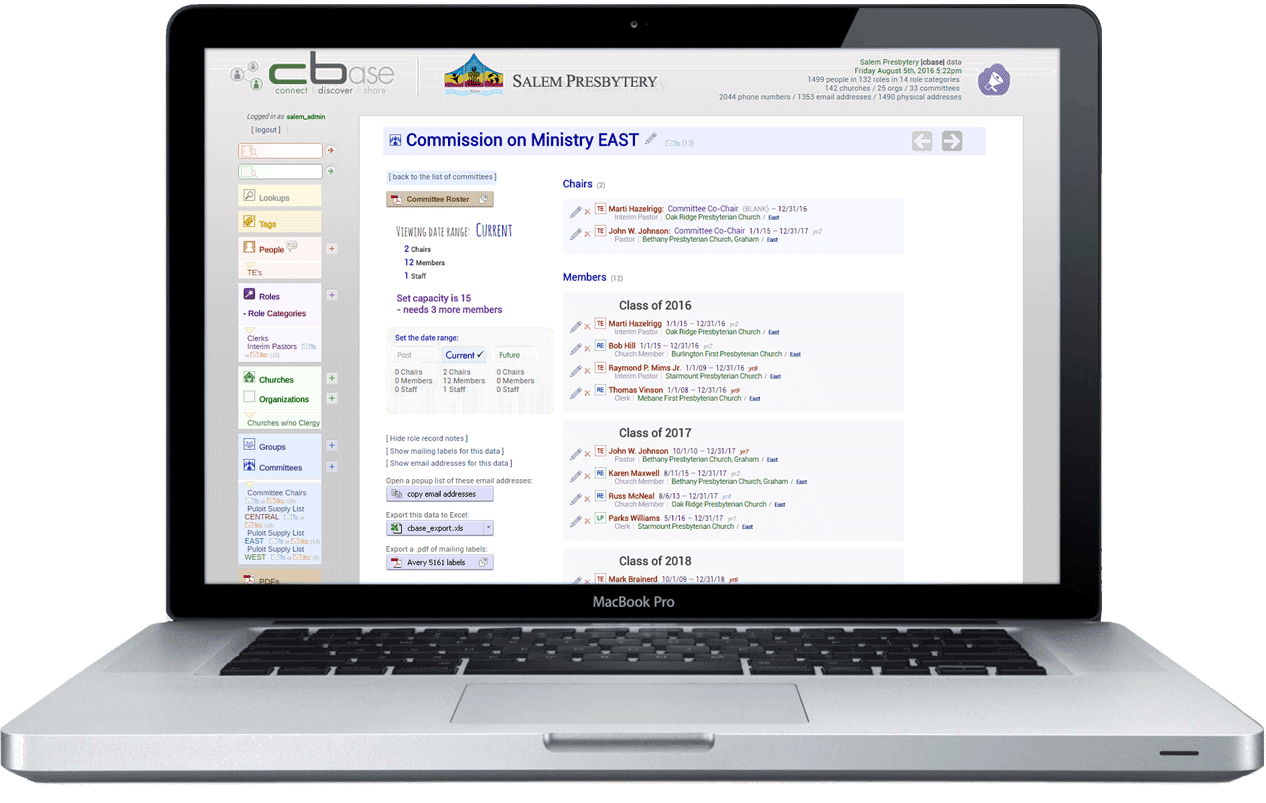 |cbase|
currently manages the data for over
1,200 churches
,
22,000 + people
and
32,000+ role relationships
– including for Grace Presbytery and the Presbytery of Coastal Carolina,
two of the largest in PCUSA. We can handle your data needs, large and small.
"I highly recommend using |cbase| and the included Presbytery Web Directory. As a former manager of a software design team and an ordained minister I can say with confidence that you will find that the customer service exceeds even the strengths of the products themselves."
Rev. Noelle Damico
Communications Director
Hudson River Presbytery
May 2016

This one-page printable "
poster
" provides an overview
of how using
|cbase|
can
transform
how your presbytery performs,
and why it's worth the flat, fair, budget-able
price
:
Automatic Daily PDFs
Instead of spending hours laboring to make PDF Directories that immediately go out-of-date,
let |cbase| produce them nightly for you automatically, or get a new one in one-click. Your web visitors can even download them from the Presbytery Web Directory
without having to request them from you in the first place.

See today's actual |cbase|-produced PDFs below for an example:
Download today's All Churches PDF Directory for Salem Presbytery:

Download
today's
All Committees PDF Directory
for Demo Presbytery:
Download
today's
All Ministers PDF Directory
for Demo Presbytery:

"|cbase| is very user-friendly compared to our previous database software. It is like visiting a modern website as opposed to antiquated software that hasn't been updated since the 90's. It is very intuitive and logically laid out, with the data we use most often right under our fingertips."
Lynn Garis
Executive Assistant to the General Presbyter, Associate General Presbyter & Stated Clerk
Grace Presbytery
June 2016

Give everyone direct user-friendly access to
well-organized, useful, current information,
automatically, everyday.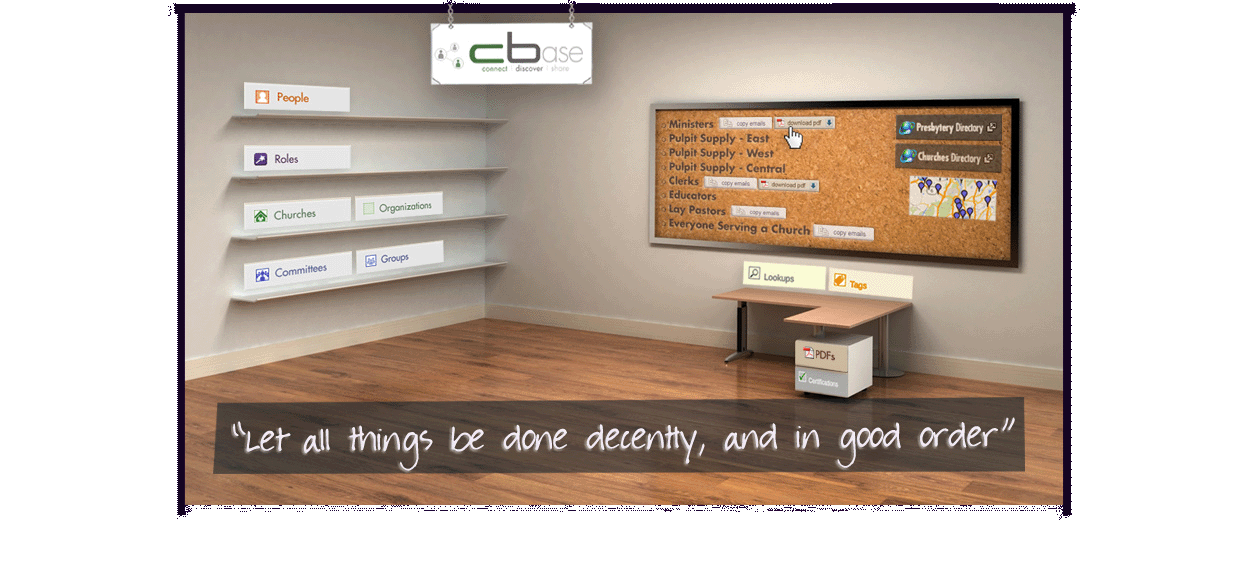 When you change a phone number
in one place
,
it changes in
every directory
, on
every roster
,
on
every PDF
, and on the two
website directories
automatically
.
|cbase|
keeps everything in sync
everywhere you publish the information
saving you tons of extra steps and valuable time
.
Consider adopting the
|cbase|
platform for your presbytery
to
organize, modernize, and empower
your entire office,
and transform the way you serve and interact with your wider presbytery community.