What if everyone could get to
"the database"
24/7
from anywhere
just by jumping on the web?

Without needing any special 'tech skills' or software installed?
Your presbytery's
information flow
doesn't
have
to involve 
tedious manual tasks
and
scattered lists and  spreadsheets
.
Every task doesn't have to get bottlenecked through one person, or by
cumbersome outdated tech and programs that weren't made to fit presbyteries.
Time doesn't have to be spent assembling and updating
manual printed directories or trying to
update outdated PDFs on the website.
The office doesn't have to
constantly play catch up from behind.
The
|cbase| web-based database and website platform
makes the end-to-end experience
collaborative
among the
entire office
online. All you have to do is add little pieces of information about a person as you learn it.
|cbase|
will do the rest! It arranges intelligent relationships for you and develops a
rich context
around all of your people and churches that's made
conveniently available online for everyone
:
|cbase|
organizes and empowers your office
internally
, and then
also automatically syncs
shareable information to a
Presbytery Web Directory
that all of your churches can access anytime on their own - ie without having to call the presbytery office!
Now every church can see who's on every committee, or the *current* Pulpit supply list –
automatically up-to-date with your internal data everyday, 24/7, without you having to do anything.
"Having a link from our website to

|cbase|'s Presbytery Web Directory

allows our ministers and churches to have up-to-date information and has

eliminated printing directories

."
Jan Krause
Administrative/Financial Assistant
Presbytery of Coastal Carolina
May 2017

"

Coastal Carolina is delighted

with the look and feel of our new Presbytery database. Alan and his team have been very easy to work with as we transferred the data from our old system to

|cbase|

. We have been

completely blown away

with how quickly questions, suggestions, and tweaks have been handled by Alan and the clarity with which he communicates with us.
Go for it!
You'll be glad you did."
Bill Reinhold, General Presbyter
Presbytery of Coastal Carolina
May 2017

|cbase|
currently manages the data for over
12 presbyteries
,
1,400 churches
,
29,000+ people
and
55,000+ role relationships
– including for Grace Presbytery and the Presbytery of Coastal Carolina,
the two largest in PCUSA.
We can handle your data needs, large and small.
This one-page printable "
poster
" provides an overview
of how using
|cbase|
can
transform
how your presbytery performs,
and why it's worth the flat, fair, budget-able
price
:
Automatic Daily PDFs
See Sunday November 19th's
actual |cbase|-generated PDFs
below for a live example
of how
|cbase|
produces
100% up-to-date
deliverables
automatically
:
Download Sunday November 19th's
All Churches PDF Directory
for Salem Presbytery:

Download Sunday November 19th's
All Committees PDF Directory
for Demo Presbytery:
Download Sunday November 19th's
All Ministers PDF Directory
for Demo Presbytery:

"I have loved working with |cbase|. The best part for me is that I can securely work on it from anywhere! The level of detailed information that is in one place for all of our staff to access anytime is a wonderful asset to our presbytery. The customized lookups and phenomenal customer support can't be beaten. I wish we had switched over to |cbase| sooner!"
Theodora Pounds, Editor
Presbytery of New Covenant
May 2017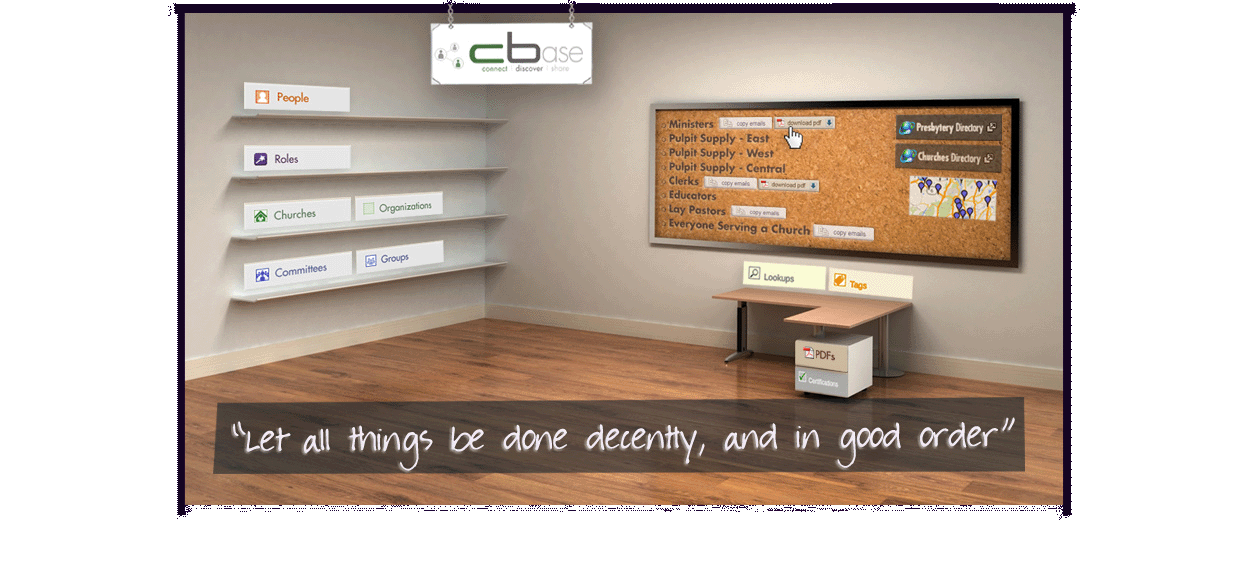 For far too long the church has been 'playing catch up' to tech rather than best employing it to
proactively
inform and direct its priorities.
|cbase| is today's answer to this problem.
It is entirely designed for a presbytery office, and we've thought of efficient ways to accomplish your essential everyday tasks. Changing a phone number in one place updates it in
every PDF
that person appears in, and on
every web directory view
at once, at the same time,
automatically
. The jump to
|cbase|
is seamless because we personally manage the transition and import of your best legacy data. The cost is clear and consistent and budget-able annually, and full functionality and premium support is entirely included - no hidden or "add-on" type costs.
Consider adopting the
|cbase|
platform for your presbytery
to
organize, modernize, and empower
your entire office at once.
Transform how the presbytery performs and serves its wider community.